I'm a little obsessed with hands. But I thinks that's acceptable. After all, they are our linkage to the rest of society.
You shake hands when you meet someone or when you come to an agreement;
You use them to express affection to loved ones, to soothe and to show that you care;
You use them to emphasise speech or in some cases, you use them in the absence of words.
Yep, your hands are mega important and always on show.
I think you can learn a lot about a person just by looking at their hands. It's possibly the equivalent of checking out skirting boards in restaurants – if they can be bothered to clean the skirting then you can safely presume that they're cleaning their kitchens. And if someone can be bothered to keep their hands nice then they're likely to be pretty much on top of everything.
The bad news is that we subject our precious hands to far more than we do any other part of our body. We expose them to constant washing, sunlight, extreme temperatures and harsh products.
The good news is that caring for your hands is probably one of the easiest bits of a beauty regime. It's easy to apply cream and anyone can stick a bit of polish on. Manicures are one of the cheapest things to have done at a salon too and a great gift idea if you just can't decide what to treat a friend to.
There's a bit more bad news though – the skin on the top of our hands is really quite thin, therefore they can show signs of ageing before anywhere else does. I recommend using the Almond Velvet Hands cream by L'Occitane. It really helps with ageing by stimulating the collagen production.
This chilly weather always plays havoc with the skin on my hands. It starts to crack a little around the nails and the skin starts to look a bit crepey. I find the Shea Butter L'Occitane hand cream sorts this out really quickly. I carry it around in my handbag and apply it a few times a day. I actually find it quite therapeutic to just take a couple of minutes rest from the computer whilst I gently massage some cream into my hands.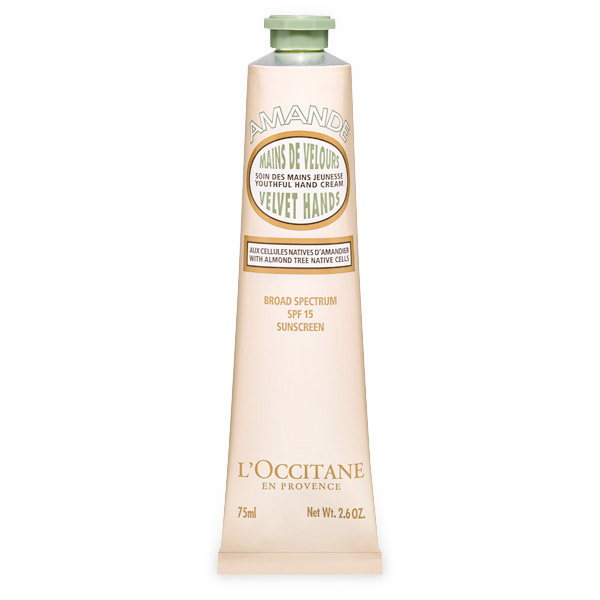 Enriched with the Almond Youth Complex, an exclusive blend of three active ingredients, and UV filters, this rich yet silky and velvety hand cream stimulates collagen production and helps to protect the youthfulness of your hands: Hands are intensely nourished Skin looks smoother and fine lines appear reduced Skin is more even and appearance of sun induced spots is reduced.
I never used to particularly put a coloured polish on my nails. I was always a lover of short, square nails with a simple clear coat of polish. But lately, I've discovered the gel overlay and I love it. It's so easy to have done at the salon and it feels great to know that it isn't going to smudge, chip or go dull.
I like dark colours with a bit of sparkle but if in doubt, a red nail always look great. Red nail polish is the ultimate statement of glamour – a bold colour that speaks of passion and confidence.
Here are my few essential hand care tips to keep your Paws looking Pretty and Perfect.
Wear protective gloves when using harsh cleaning products.
Wear gloves in cold weather to prevent the skin from drying or chapping
Protect your hands with a moisturiser that contains sun cream with at least SPF 15
Use hand cream on your nails as well as your skin
Don't bite your nails
Treat your hands to an olive oil and sugar scrub once a week.
Happy Hands everyone